Since the beginning, our company has always believed in partnering with our clients, helping them make the best possible decision for their packaging projects. Our goal has always been to bring them under the tent to fully explain their options, then go the extra mile to ensure the results are perfect.
Our willingness to go the extra mile will go a long way to making your job easier and your packages outstanding. Whether it's CPG, food service, pet care or packer-processor, we'll find the right solution. Or make it.
Our History
In 1989, our founder Paul Kerrigan began making industrial trash bags in a 3,000 square foot space in Brampton, Ontario. Since then his second-generation family-run company has evolved into a much larger operation.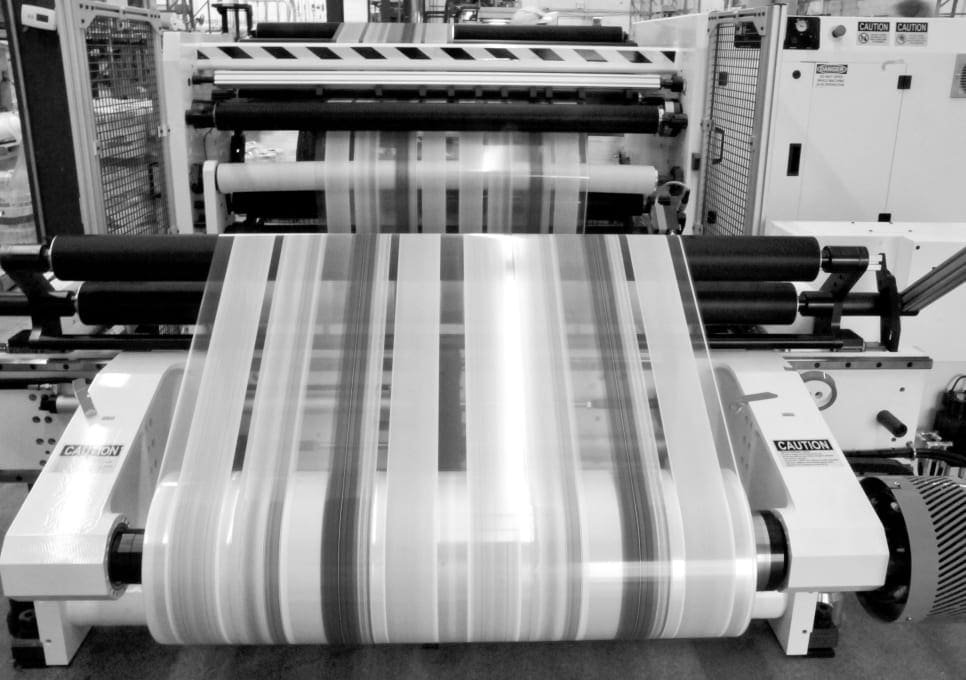 Currently AlphaPoly has over 100 employees working in a 75,000 square feet plant serving Canada and the U.S.
A large part of our success comes from our willingness to provide more upfront service and consultation, more product options and more creative flexibility. All with greater speed and efficiency and without sacrificing quality.
Paul Kerrigan opens Alpha Polybag with two bag machines and two employees in a 3,000 sq ft facility
Over a 10 year period expanded 3 times to 10,000 sq ft and extended the product line.
Moves to a 15,000 sq ft plant, purchases first high performance bag machine, making the company Canada's leading food portioning bag manufacturer.
Within 6 months, acquired a competitor with a wider product range, doubling sales overnight.
After running out of space (again), moved to a 33,000 sq ft facility; ordered a state-of-the-art 6-colour flexo printing press, increasing custom manufacturing capabilities.
Alpha Poly makes a second company acquisition of another company in southwestern Ontario.
Paul's son Patrick leads lean-manufacturing audit, increasing output by 65%.
Patrick Kerrigan succeeds his father, other family members take key leadership roles. Introduces new branding, renames to Alpha Poly Packaging Solutions adding printed, laminated and pouch products to it's offering.
Installation of a multi-million dollar capital equipment investment high end 8-colour Miraflex process printing press, state-of-the-art laminator and slitter machines. Alpha positions itself as one of Canada's leading independent flexographic printers.
An additional 20,000 sq ft of space is added to current facility.
Becomes IFS PACsecure certified.
Acquisition of Mikia Printing, a specialty flexible-packaging printer.
Key investment in Totani Pouch making machine allows for expansion of product portfolio offering.
Investment in multi million in high end 10-colour Miraflex printing press to expand colour capabilities and increase capacity.
Rebrand to "AlphaPoly Packaging" with new logo to better reflect identity and company direction.
Our willingness to go the extra mile will go a long way to making your job easier and your packages outstanding. Whether it's CPG, food service, pet care or packer-processor, we'll find the right solution. Or make it.
"They make a commitment to us and our projects, to meet our needs from start to finish…and they never let us down."
"Their expertise and leadership to work directly with our customer on our behalf was invaluable – a great service and value-add."
"Their incredible execution of each project is nothing short of amazing!"
Frequently Asked Questions
What does AlphaPoly do best?
AlphaPoly is an agile company that specializes in high end, attractive flexible packaging. We work closely with our customers to ensure the packaging is spec'd to their requirement and deliver quality product in a timely manner.
AlphaPoly has a wide range of clients that we deal with in all industries ranging from Bakery to Pet Treats and Nutraceutical. Customer referrals are available upon request.
Can you make environmentally friendly and/or biodegradable bags?
We offer many different packaging choices within the sustainable packaging line. Please contact us with your specific needs and we can put together an application that meets your needs.
How quickly can you make a package? What is your lead time?
Our average lead time is 6 weeks however we strive to work with our customers required date. We are focused on accommodating your requirements. Contact us today to find out more!
Can you store finished packages?
Yes, AlphaPoly offers services related to vendor managed inventory or warehousing – contact us to find out more about our services.
Can you design a package from scratch?
Our team of professionals can work with you to determine the package style best suited to your product requirements. Attractive package design is key to having your product stand out on the shelf, we can offer turnkey solutions with design services, or consultation with your designer to ensure the design is flexo friendly.
What is your capability? How many colours can you print?
AlphaPoly has a colour management system which enables colour accuracy and matching for brand consistency. We offer up to 10 colour process or line print along with various finishes to make your package pop out on the retail shelf.
Do you have any certifications?
AlphaPoly is IFS PACSecure certified along with GS1 Canada and GMI – Graphic Measures International.